Application:
An investigation is presented by Buzz and Fizz, making number sentences with fridge magnets.
PDF's of both worksheets are available online
by clicking on the BUZZ button on the CIRCA Home page,go to Activity Sheets, and click on the relevant picture:
http://www.circamaths.co.uk/buzzws7a.html
<![if !vml]>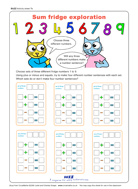 <![endif]>
<![if !vml]>
<![endif]>­­­­
This worksheet is designed to be accessible to several Year groups.
The first worksheet gives three numbers and asks for four number sentences (one is given), a task suitable for Year 2 and up. If using in a class or group, encourage the children to say the sentences out loud. Using mental calculation strategies, they should soon be able to see that they are working with pairs that can be written as addition and then the corresponding subtraction fact, and vice versa.
The second set of numbers is deliberately easy, so that they will see the pattern and gain confidence in the task.
The second worksheet offers scope for some real investigation: Ask, how will they use what they have learnt from Activity sheet 1? For those who aren't sure, ask, Which pairs of numbers sum to a third number on the fridge?
The exercise of recording their number sentences is useful: learning how to organise one's work will encourage a systematic approach to investigating patterns of similar calculations, and lead to mathematical understanding.
Extension: There are 16 sets using three numbers from the magnets. Can they work systematically and find them all?
(they are: 1,2,3 1,3,4 1,4,5 1,5,6 1,6,7 1,7,8 1,8,9 2,3,5 2,4,6 2,5,7 2,6,8 2,7,9 3,4,7 3,5,8 3,6,9 4,5,9
For older children: If the number 5 was added to the set 9, 2 and 7, how many more sentences can you make? What number would you add after that? Can you make sets using two digit numbers? What mental strategy can you use to do this easily with numbers like 19, 11?(rounding and adjusting by 1)
Add
Subtract
Total
Patterns
Number sentence
Different
Equals
Minus
Plus
Pairs
sum